.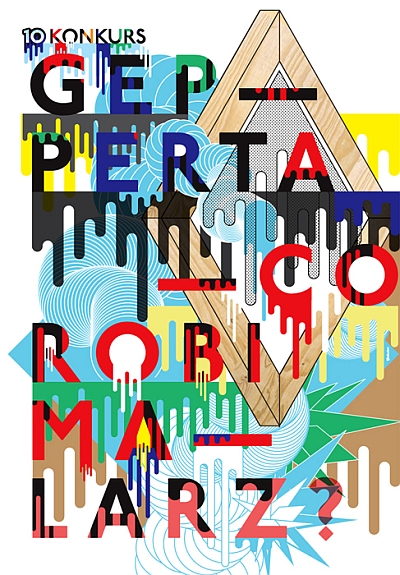 The Geppert Competition is all-Poland event dedicated to young painters. Its aim is to present the full spectrum of phenomena which currently take place in Polish painting, and to promote novice artists. The competition, which has taken place since 1989, is one of the most important review of young art in Poland.
The multistage selection allows to choose the most talented young painters among the graduates from the academies of fine arts and art departments of Polish universities. The Polish experts: notable artists, tutors, critics and curators, who are invited by the organizers,  nominate the participants to take part in the competition. The experts' task is to nominate interesting painters, and then choose only 25 the best artists who will take part in the competition.
The event is unique not only due to the exclusive character of participation possible only after nominations, but also because of the fact that participants are only novices up to three years after graduation. That means that only graduates who begin their careers can take part in the event. The Geppert's competition often becomes the first confirmation of the value of their art and a breakthrough which motivates to further development. Let us mention that so well known artists as Wilhelm Sasnal, Zbigniew Rogalski, Grzegorz Sztwiertnia, Paulina Ołowska, and Laura Pawela presented their works during the previous editions of the competition.

The third and last stage is a verdict of professional jury who evaluate exhibited works of art. On 14th October 2011, during Gala Meeting, the jury will announce the verdict and award the winners with cash prizes of a total value 60 000 PLN. The prizes are sponsored by the Minister of Culture and National Heritage (Grand Prix 30 000PLN), President of Wrocław (20 000PLN), Rector of the Academy of Fine Arts in Wrocław (5 000PLN), and the Director of BWA Wrocław – Galleries of Contemporary Art (5 000PLN).
Organizers:
Eugeniusz Geppert Academy of Fine Arts in Wrocław [www.asp.wroc.pl]
BWA Wrocław - Galleries of Contemporary Art [www.bwa.wroc.pl]
Curators: Wojciech Pukocz, Patrycja Sikora